Oases-Scatt: OASES Target Scattering Simulator
Scatt is an optional addition to Oases, providing the capability of simulating acoustic scattering from canonical and complex objects embedded in fluid-elastic waveguides.
Licensing
Oases-Scatt is licensed through the MIT technology Licensing Office. Please contact 'tokeefe@mit.edu'.
A free license is available upon request for research collaborators.
Download
Licensees with valid username and password may download Oases-Scatt from the LAMSS software repository
> svn co --username new_user https://oceanai.mit.edu/svn/scatt Scatt
Documentation
Documentation and Users Guide is available in the distribution:
> cd Scatt/Manual
> latex manual
> dvips -f manual > manual.ps
Installation
The installation requires the Oases base package to be installed. The installation of the scatt components is performed with a generic CMAKE script, build.sh, with the root directory for the binaries as an argument:
> cd Scatt
> ./build.sh ~/Oases
Here the binaries are placed in the Oases/bin directory.
Example: Benchmark Scattering Solutions
The following shows a comparison of OASES-Scatt to finite element solutions for scattering from targets buried completely or partially in the seabed. The OASES-Scatt solution is denoted VSC (Virtual Source Concept).
M. Zampolli, A. Tesei and F.B. Jensen, "Benchmark problems for acoustic scattering from elastic objects in the free field and near the sea floor," J. Acoust. Soc. Am. 125: 89--98 (2009).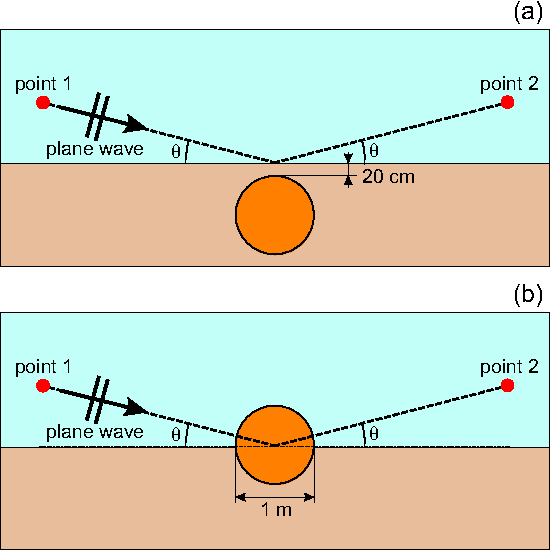 Scattering geometry for completely and buried spherical shells
Scattered field computed by OASES_Scatt (VSC) and a Finite Element solution using Perfectly Matched Layer approach to satisfying the radiation condition (FEM-PML) for a completely buried spherical shell
Scattered field computed by OASES_Scatt (VSC) and a Finite Element solution using Perfectly Matched Layer approach to satisfying the radiation condition (FEM-PML) for a partially buried spherical shell