GOATS14 Experiments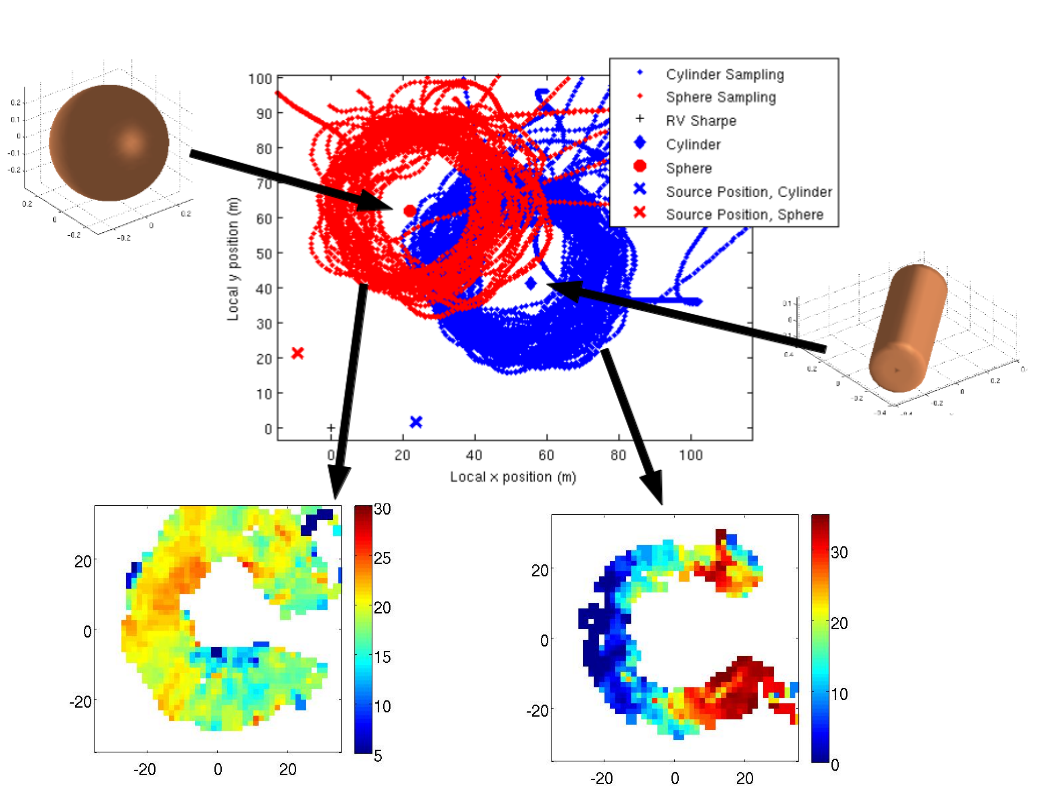 http://scitation.aip.org/content/asa/journal/jasa/138/6/10.1121/1.4938017
http://ieeexplore.ieee.org/xpl/abstractAuthors.jsp?reload=true&arnumber=7317805
Location:
St. Andrews Bay, Panama City FL
Massachusetts Bay, MA
Period:
May 20-23, 2014
November 10, 2014
Research vessels
PCS-3 (NSWC Panama City) RV Resolution (Bluefin Robotics)
Chief Scientist
Prof. Henrik Schmidt
BayEx'14: Dr. Kevin Williams, APL-UW
Personnel
Erin Fischell
Stephanie Petillo
Thom Howe

Partners:
NSWC in Panama City, Florida
Kevin Williams et al. at APL-UW
Objectives:
Collect bistatic scattering data around spherical and aspect-dependent targets in realistic harbor environments.
Demonstrate chip scale atomic clock-based precision timed data acquisition in the field.
Demonstrate autonomy, signal processing, and machine learning methods developed in simulation for classification of seabed targets using bistatic scattering amplitudes.
Experiment Assets:
AUV Unicorn with shallow water active acoustic payload and 16-element nose array.
Lubell acoustic source with time-synchronization (Mass Bay Experiment).
Description:
GOATS'14 consisted of two experiments looking at bistatic scattering from symmetric and aspect dependent target using the AUV Unicorn. The first experiment, in May 2014, was a part of BayEx'14 effort in Panama City, FL. The second in November 2014 was conducted in Massachusetts Bay. For both experiments, a time-synchronized acoustic source insonified a target field, and the AUV Unicorn collected acoustic data on a hydrophone nose array. The data was processed to estimate target scattering amplitudes. The resulting target scattering maps were compared to simulation results and used to test a target classification methodology.
Unicorn on crane of PCS-3 during BayEx'14 experiment.

MIT Team after BayEx'14 data collection.